---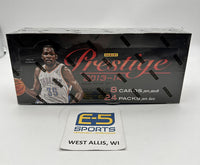 2013-14 Panini Prestige NBA Hobby Box Giannis Rookie Year
E-5 Sports
LOOK FOR GIANNIS ROOKIE CARDS AND GIANNIS ROOKIE AUTOGRAPHS!
 FREE SHIPPING IN THE US!
COLLECTION BREAKDOWN: 200-Card Base Set
Numerous insert sets including the hard-to-find Playmakers, Prestigious Pros and Prestigious Picks cards. Eight different sets featuring autographs or memorabilia!

PRODUCT HIGHLIGHTS
- The return of one of the hobby's most prestigious brands! Prestige is back and loaded with inserts, autographs, memorabilia and more!
- Playmakers, one of the most sought after card sets returns in this year's edition. Last year's Playmakers routinely sold for $75-$100 on the secondary market! These hobby-exclusive cards are worth the chase, falling on average one per case!
- Find autographs of veterans, rookies and legends in one of five unique autograph sets!
- Look for the Prestigious Premieres rookie set, featuring members of the 2013 NBA Draft Class!


PRODUCT DESCRIPTION

PRESTIGIOUS PREMIERES
The new NBA season means new rookies! Search for the Prestigious Premieres autograph set featuring members of the 2013 Draft Class!

BONUS SHOTS AUTOGRAPHS
Look for the brand new Bonus Shots autograph set, featuring top players including Chris Bosh!

PLAYMAKERS
Chase the popular Playmakers cards, featuring the NBA's top stars in one of the most elusive sets in Prestige!

DISTINCTIVE INK
Discover autographed cards of all your favorite players in five different signature sets including Distinctive Ink!

NBA MATERIALS
Get closer to the game with three different memorabilia card sets including the new and innovative NBA Materials!

FRANCHISE FAVORITES
Find players from all 30 NBA teams in the Franchise Favorites insert set!